Hello and thanks for reading this. You're here because you're looking for IT support for your business, OR you've just clicked on the wrong link from Google! If you are looking for IT support then we can definitely help with that.
Our friendly and experienced team are on hand to offer help and advice on anything IT related, so why not give us a buzz on 01274 955509.
We're based in Bradford, West Yorkshire and provide effective and comprehensive IT support services, consultancy and training for businesses of all sizes across the UK, Europe and Africa.
Being located centrally in the UK means we can quickly serve all areas of Northern England and beyond.
Combined with our 24/7 support means that your business is in safe hands.
Our wide range of IT support and services means that you can concentrate on your business, ensuring that it continues to run smoothly without any IT headaches.
We aim to provide a personal, professional and reliable IT support service, whilst cutting your IT overheads without reducing quality of service to your customers.
Taking the sting out of IT
BEE confident in our Support and Services – Call 01274 955509 for more information
IT Support and Consultancy
Bees Knees IT offer a 24/7 IT support service across the UK and abroad. Support is via onsite, remote or telephone. Simple Support packages - Fully Monitored Retainer or Pay As You Go.
Highly trained Worker Bees!
All Bees Knees IT staff are highly trained with recognised industry qualifications such as CCNA (Cisco), Microsoft and ITIL certifications so you can be sure you're getting the best support possible.
Call 01274 955509 for a chat.
Business Continuity
Whether you require on-premise or off site backup our state of the art backup software enables you to get your business back up and running with as little down time as possible with unlimited storage plans.
UK based Data Centres
Keep your data backed up and secure in our UK based Data Centres with replication between geographically separate sites.
Call 01274 955509 for a chat.
Hardware and Software
Through our supply chain of distributors and resellers Bees Knees IT can source any hardware or software from any vendor worldwide. Most items available on next business day delivery.
Dell, HP, Cisco, Microsoft, Bitdefender and much more
We can pretty much get any hardware or software, give us a try! And all at competitive prices.
Call 01274 955509 for a chat.
CCTV, Access Control & Alarms
Complete protection for your organisation with advanced electronic security systems. Fully bespoke, end-to-end solutions, from initial survey and design, right through to ongoing maintenance and system upgrades.
Physical Security
CCTV – design & equipment supply, installation, servicing, remote monitoring & ongoing maintenance.
Access Control – simple external access controls & intercom systems, to fully integrated, zoned & multi-site systems.
Intruder Alarms – simple, standalone intruder alarms, to fully managed solutions.
Call 01274 955509 for a chat.
Infrastructure & Cabling
Bees Knees IT offer complete data and electrical cabling services. All technicians are Cisco and/or 17th Edition qualified, ensuring your infrastructure is safe and running at optimal performance.
Data, Electrical and WiFi
From a single cable run to rewiring an entire building, we can do it all! We are also Ruckus and Unifi experts so can provide business class WiFi solutions.
Call 01274 955509 for a chat.
Website Design & Hosting
Bees Knees IT provide web site design and hosting with a package to suit all businesses. Hosting starts from as little as £10pm which includes a .co.uk or .com web address and web sites designed and built from £250.
It's your shopfront!
Typically a website is the first thing a potential customer will see. Ensure you create an excellent first impression with a professionally designed and fully managed website (hopefully like ours!).
Call 01274 955509 for a chat.
Cloud & Hosted Services
Reduce the complexity, costs, management and overheads of your IT systems by moving to the 'Cloud'. Bees Knees IT provide a number of options including Cloud Backup, Email, Office 365, Anti-Virus and Anti-Spam services.
Only UK based Datacentres
All our Cloud Services use only UK based Datacentres so you can be certain they comply with any UK and European rules and regulations. All employ replication to a 2nd geographically different Datacentre so you can be certain your data is safe and can be accessed at any time.
Call 01274 955509 for a chat.
Cyber Essentials Certification
Cyber Essentials is a simple but effective, Government backed scheme that will help you to protect your organisation, whatever its size, against a whole range of the most common cyber attacks and threats.
Your Content Goes Here
Your Content Goes Here
6 months ago
Proud to say we're now Cyber Essentials Certified, so you can be sure our IT is as secure as possible against cyber attack.
Want to reassure customers you're working to secure your IT against cyber attack? Let us help you become Cyber Essentials Certified today!
Call 01274 955509 https://t.co/c3wENncC90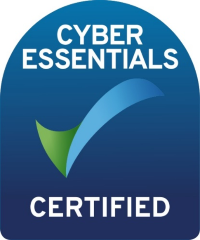 7 months ago
Bees Knees IT's 1st video. We think it's pretty good for a 1st effort! Hopefully you will too 😀
Call us on 01274 955509 or email helpme @beeskneesit.co.uk for any help or further info and check out our reviews on Google and TrustPilot.
Thanks! https://t.co/cKcAD5Hcxb
Our Services and SLA's status
Here you'll find an overview of the uptime and status of some the Services and Support we provide, so if you are having an issue check here first.
If there are no issues showing (hopefully not!) then give one of our friendly team a call and we'll get right on it.
Also check out our Twitter account @beeskneesit and Facebook page #ITSupportYorkshire for live service updates
Cloud Backups completed succesfully
100%
Bitdefender Cyber Security
100%
Calls resolved within SLA's
100%
I've been Using Craig and his services for the past 4 years for our business, Email and website needs. Craig and his team are always very quick to respond to any... read more issues i have had and are always willing to help with any IT issues i have and rectify for me whilst also showing me easier ways to do things!

Life_with_the_stanhopes


8/12/2020

The team at Bees Knees IT have supported my business in a number of ways and I have always been impressed with their attention to detail, responsiveness and competitive prices!... read more Bees Knees now look after all of our IT needs, including support and hardware. I can (and have) happily recommend them to other businesses. Dan Mottram Managing Director White Star Security

Daniel Mottram


9/06/2020

These guys really know their stuff! Very knowledgeable. Responsive and extremely thorough (not to mention Patient). Can now sleep easy at night, knowing that all my... read more IT infrastructure is in safe hands. Thanks to everyone at Bees Knees IT who have supported my business. Look forward to working with you moving forward

Stephen Dobson


7/28/2020

A very professional team who take care of your IT needs for your biz 😊

Marie McAvan


9/03/2020

Bee Knees provide us with all our IT support & we highly recommend their professional IT support service. Their friendly experts are always available on the phone or via email and... read more always fully resolve our IT problems. A truly professional company who have taken time and effort to learn the requirements of WISE and our staff and have tailored their service accordingly.

Enquiries Email


8/12/2020

Bees Knees provide an excellent service to us at the WISE Campaign. They're efficient and professional, no matter the queries we give them. I would definitely recommend them.

Katherine Watson


9/08/2020

Fantastic support from Bees Knees. Answer queries promptly and efficiently. Nothing is ever too much trouble. The team are very professional but always friendly.

Robert Bavington


9/07/2020

Bees Knees have been our 'go to guys' for our outsourced IT support requirements for the past 8 years. We have no reason to look elsewhere. There is always somebody at... read more the end of the phone to resolve our issues in as little time as possible. Thoroughly reccomended.

Fraser Blakemore


8/11/2020

Bees Knees support our Charity's IT infrastructure. They are always friendly, professional, helpful, easy to get hold of and resolve our problems quickly and without a fuss. I'm a very... read more tough customer to please, but Bees Knees go the extra mile and seem to really care about their customers. I would definitely recommend them.

Darren Starkey


8/29/2020
Fancy a coffee?
Prospect House
Sandbeds
Queensbury
Bradford
BD13 1AD
Contact Us
01274 955509
info@beeskneesIT.co.uk
@BeesKneesIT